Streamlining Document Management: New Features on Scan2x
Scan2x is a comprehensive solution that enables businesses to efficiently scan, store, and collect accurate metadata with document management systems. With the latest version of Scan2x, the software offers a range of new features and performance improvements that make it an even more powerful tool for businesses. 
Scan2x can simplify this process for you, making it easier than ever to manage your documents effectively with Scan2x, you can easily automate data capture from a variety of documents, including travel receipts, legal contracts, invoices, and forms. 
Performance Boost: What's New in Scan2x
One of the most notable improvements in the new version is the performance boost that it offers.
The web speed has been significantly enhanced, which makes the software faster and more responsive.  
Coming soon: A revamped user interface! 
We're excited to announce that we'll soon be launching a new, user-friendly interface that's been designed to make your experience more intuitive than ever before.
Our new design includes elegant icons that are easy to understand, and you'll even be able to customise the interface with your corporate colours for seamless integration with your branding. 
We've also made it easier to track your documents at every stage of the process, including those that have been uploaded, processed, or have errors. With our new user interface, you'll have everything you need to stay on top of your workflow and get things done faster and more efficiently. 
Stay tuned for more updates on the launch of our revamped user interface! 
Effortless Document Analysis: How Scan2x's Natural Language Processing (NLP) Streamlines Document Metadata Capture 
Another significant addition to the Scan2x software is the Natural Language Processing (NLP) feature. This feature uses AI to enable the software to understand the text of a document in the same way a human being would. This allows Scan2x to pick up on specific information such as dates, names, and places, which is essential for businesses that deal with a large volume of documents. 
The NLP feature can be used by ticking the option "Process scanned document with Avantech Online Services" and selecting the desired NLP service. 
For example, the English Large NLP Service can pick up on general information such as: 
Names

 

Dates

 

Locations

 

Amounts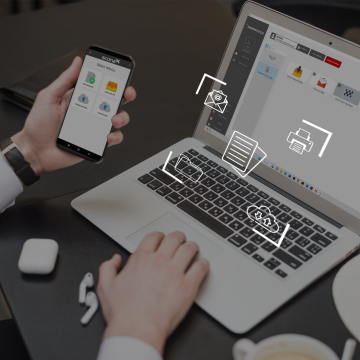 This can be particularly useful for legal documents, where specific information needs to be captured accurately. 
Scan2x's NLP feature is continuously improving with new focus areas being added all the time. This enables the software to target specific document features with greater accuracy, making it more effective for businesses. This can save businesses significant amounts of time and effort, allowing them to focus on their core activities. 
Efficient Scanning and Secure Management with Scan2x MEAP Integration: A Powerful Solution for Document Management
Another very important feature about Scan2x is the ability to run inside the MEAP environment. MEAP stands for "Multifunctional Embedded Application Platform", which is built into every Canon multifunctional device 
This feature allows users to use Scan2x on Canon Multifunctional Devices (MFD). With MEAP, users will be able to enable metadata prepopulation on CanonImageRunner devices during scanning.
This means that users can pre-populate metadata fields with relevant information, such as document type or customer name, as the document is being scanned. This can save users a significant amount of time and reduce the likelihood of errors during data entry. 
In addition, MEAP provides a secure and efficient way to manage the scanning process.  
With Scan2x and MEAP, documents can be scanned directly from the MFD to a secure digital repository without the need for intermediate steps or manual data entry. This can help to streamline business processes and reduce the risk of document loss or misplacement. 
Overall, the combination of Scan2x with MEAP devices creates a powerful tool for businesses looking to streamline their document scanning and management processes. By combining the power of Scan2x with the efficiency of MEAP-enabled MFDs, businesses can improve their workflow and reduce the risk of errors or data loss. 
Versatile and Efficient: Streamlining Document Management with Scan2x's Latest Version.
Scan2x has always been designed to be an entry point for businesses to digitise their documents, both in PDF or on paper. With the latest version, this is more evident than ever.  
The software has been designed to automate all but the most basic of decisions, allowing users to focus on their core business activities.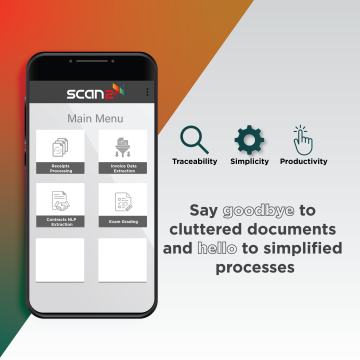 Furthermore, the software can be used in a range of modes, including standalone or networked capacities, on-premise or cloud environments. This flexibility makes Scan2x a versatile solution that can be tailored to meet the specific needs of individual businesses. 
With the latest version of the software, businesses can take advantage of a range of new features and performance improvements, including a faster web speed, a user-friendly interface, and NLP capabilities.  
These enhancements make Scan2x an even more valuable tool for businesses looking to improve their document management processes and increase their efficiency. 
Do you want to know more?