Press release – Canon includes Scan2x in their product portfolio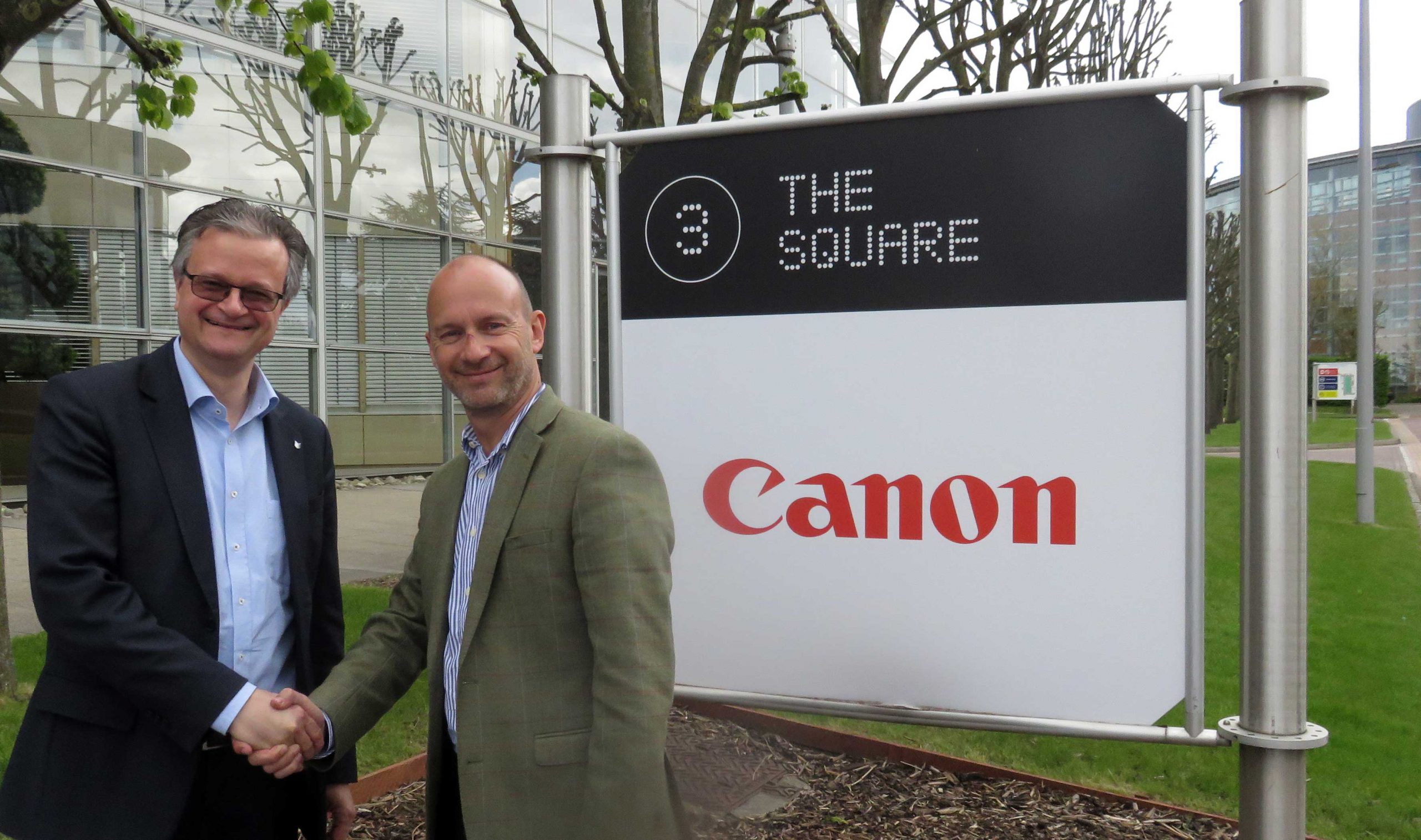 Canon Europe signs up with Avantech for distribution of Scan2x
Avantech is pleased to announce the signing of a distribution agreement with Canon Europe for the sales of Avantech's Scan2x intelligent document capture solution across Europe, Africa and the Middle East.
Scan2x is an all-in-one intelligent document capture terminal, designed to streamline and automate the process of scanning documents into digital storage from paper or digital images. It allows administrators to create fully user-customisable scan job buttons, thereby insulating users from complexities like scanner settings, image destination, indexing, compliance and document validity. The system is designed for use in a standalone or networked environment much like a person uses a cash machine or airline check-in kiosk. Scan2x will continue to function if network connectivity is lost and all image processing takes place in the background to ensure a smooth and fast user experience. By automating all but the most basic of decisions at scan time, Scan2x allows users to concentrate on the particular business process at hand. Furthermore, Scan2x is often able to make a positive contribution to the business process by utilising information present on the documents being scanned to perform checks and queries or trigger events.
Nick Camilleri, managing director of Avantech, said "Canon's inclusion of Avantech's Scan2x software into their pan-European product portfolio is testament to our market relevance, quality and innovation in the field of intelligent document capture. We are proud to welcome Canon as resellers of our product across Europe, Africa and the Middle East, and we look forward to further expansion together."
Markus Naegeli, Canon's Executive Vice President of Business & Information Services "We are pleased to partner with Avantech and strongly believe that Scan2x greatly enhances our solutions portfolio. As a result, we will be able to serve an even larger number of customers and vertical markets, such as the banking sector, offering more targeted and tailored document processing solutions."
---
About Avantech
Avantech is a software solutions company based in Malta. With partnership agreements with Canon dating back to 1972, Avantech have an intimate understanding of the full range of Canon products and have developed multiple software applications to enhance and extend many of these systems. By combining Canon products with their own software development, they have created innovative, unique process-centric solutions that are tailormade for the individual customer.
Further information about Avantech is available at: www.avantechsoftware.com
About Canon Europe
Canon Europe is the EMEA strategic headquarters of Canon Inc., a global provider of imaging technologies and services. Canon Europe has operations in roughly 120 countries, with approximately 18,000 employees and contributes to around a quarter of Canon's global revenues annually.
Founded in 1937, the desire to continuously innovate has kept Canon at the forefront of imaging excellence throughout its 80-year history and has commitments to invest in the right areas and capture growth opportunities. From cameras to commercial printers, and business consultancy to healthcare technologies, Canon enriches lives and businesses through imaging innovation.
Further information about Canon Europe is available at: www.canon-europe.com
---